Staff
Steve Brong, MS – Founding Partner, President & CEO, Family Worker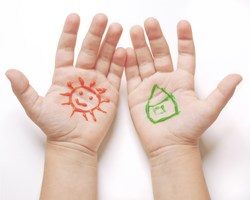 Steve began his venture in social services while attending graduate school at Shippensburg State College pursuing his Master's degree in counseling. He holds more than 35 years of experience working in the areas of drug and alcohol, mental health, as well as providing directorship of several children and youth organizations. Steve has dedicated his career to helping adults, children and families in managing stress and crisis by guiding them to stability.
As a founding partner of Lehigh Valley Families Together, Inc., Steve continues his commitment to children and families through his everyday work. "Just as the original concept of helping parents build a family that will be stable, emotionally and physically safe continues to guide my efforts, my direct involvement with clients as a family worker and team leader shapes my decisions as the chief administrator of LVFT. There is no question in my mind that continuing to provide direct services helps me stay in touch with the needs of our families and the counties we serve, and has made me a more effective administrator."
Allyn Benech, M.Ed. – Founding Partner, Vice President, Program Director
Starting out to be a business manager, Allyn decided towards the end of her undergraduate work that the counseling field was the direction she was headed. Graduating with a bachelor's degree in Business Management and subsequently a Master's of Education in Rehabilitation Counseling from Penn State, she now sees her life took her down the perfect path because she uses both of her degrees in her current position.
Allyn has held several positions in the area of social services from mental health and intellectual disabilities services to working with children in foster care and seniors in a nursing home setting. Her experiences brought her together with President Steve Brong to create Lehigh Valley Families Together.
Throughout her work, Allyn has learned that every person has a story that deserves to be heard and honored, and there is hope even in the direst of circumstances. Allyn holds true to a saying her father would tell her, "Everything happens for a reason." She works to help clients see beyond their immediate struggles to what may lie ahead.
In addition to holding the positions of Vice President and Program Director, Allyn is also certified in Family Group Decision Making and Family Development Credentialing. She enjoys spending time with her sons, dog and cat and when she's not reading a good book you may be able to talk her into taking a sky dive!
Laura Gross – Office Manager
Laura has been working 15 years as Lehigh Valley Families Together's office manager. Laura holds substantial management experience prior to joining LVFT and holds a degree in Computer Programming. Throughout her years with LVFT, Laura is inspired to see families who have so much going against them become success stories.
She enjoys spending time with her family and friends. Loves to laugh!
She believes you need to "enjoy the little things because one day you will look back and realize they were the big things!"
Laura is a longtime volunteer and loves to be outdoors especially on a beach somewhere.
Stephanie Buck - Foster Care Recruiter/Trainer
Stephanie has wanted to work in the foster care field since attending college. This is her first job in the social services. Previously before LVFT, she worked at KidsPeace as a Mental Health Technician II. Stephanie also worked as an Associate Teacher in a Life Skills Classroom at an elementary school for about 2 years.
Stephanie received her Associate's degree in Social Work from Northampton Community College, and a Bachelor's degree in Social Work from Kutztown University.
Since starting at LVFT, Stephanie has been inspired by all her co-workers who have come from all types of backgrounds and work experiences. She feels her prior experience has prepared her the this new career opportunity.
Stephanie had a Community Learning/Service paper published during her time at NCCC. She also presented at a research conference on The Importance of Program Evaluation for a Healthy Relationship workshop during her senior year at Kutztown.
She enjoys hosting parties. When she wants to unwind, she cleans. Stephanie is inspired by great people who believe in making a difference, have each other's best interest in mind, and who use humor as a stress relief and a way to connect with others.
Her quote to live by: In order to get on the road to success you have to get in the car and start the engine!
Amanda Deppa - Family Worker
Hello all!
My name is Amanda Deppa, I am new to LVFT but I have had the pleasure of working in the human services field for 4 years now. In the past, I have worked with survivors of domestic violence and sexual assault, young adults struggling with mental health, children of mental health and autistic. I have my bachelor's degree in psychology with a double minor in criminal justice and sociology, I am currently working towards going back to school to pursue my masters in mental health clinical counseling.
I am born and raised as a Jersey girl so when I made the transition to Pennsylvania, it was quite scary, figuring out where to live, where to go but most importantly my work. When on my job search, LVFT stuck out to me. The mission and goal of this agency is what I was looking for, to me, if you do something you love, you never work a day in your life and LVFT sounded like that to me. I take pride in my work every day, I love the work I do because I know when I walk into that office, home, courtroom, etc. I will change someone's life. Maybe not today, maybe not tomorrow but one day, it will make an impact and that's my work aspiration. My life has changed tremendously since I began this work, this work makes you empathetic, kind and strong; if one didn't have these qualities, they will now.
During my undergrad career, I was able to get certified as a sexual assault/domestic violence advocate as well as after my undergrad career, I was CPR certified as well as became a Registered Behavior Technician (RBT). When I am not working, I love to binge watch tv shows with my boyfriend, explore new restaurants as well as playing outside with our 4 dogs. I like to live by the quote that, "you are not what happened to you, you are what you choose to become". I am looking forward to my future at LVFT!
Noelle Carden - Family Worker
Noelle recently graduated from Kutztown University. She received her Bachelor's degree in Sociology and minored in Social Work and Case Management. Working at Lehigh Valley Families Together will be her first full-time job since graduating. Working closely with children and their families is what drew her to accept the position as a family worker helping to make a difference.
Noelle loves to travel, being outdoors and, spending quality time with family and friends. What inspires her the most is to lead by example and being a great role model.
Favorite quote to live by: "If you stand for nothing, you'll fall for everything".
Nicole Ang - Resource Family Care Caseworker
Nicole has recently graduated from Indiana University of Pennsylvania. She received her Bachelor of Arts degree in Psychology. Being a caseworker at LVFT is her first job in the social services field. While at IUP, she was involved in the Seedling Project, which gives local residents fresh soil, gardening tools and seeds in order to start their own gardens. Nicole participated in the Women and Gender Studies Club, which aims to better inform people on gender issues.
LVFT stood out to Nicole because the agency's goal in foster care is reunification with families. She feels that family is key and LVFT makes every effort to try and keep families together. She feels that working here could make an impact on these children's lives. The part of her work she enjoys the most is working directly with the children and looks forward to making connections with them.
Nicole has started getting involved with the local Boys and Girls Clubs.
She is a recent newlywed, loves to travel and try new cuisine! Future plan is to go back to the Philippines for a visit, where she was born. Loves listening to hip-hop and R&B music.
Her mom is her inspiration because she showed her that no matter where you come from and how you grew up, you can make something of yourself as long as you have the determination to do so.
"People who are crazy enough to think they can change the world, are the ones who do." - Rob Siltanen
Yariliz Castillo - Resource Family Care Caseworker
Yariliz joined the staff at Lehigh Valley Families Together 2 months ago. She loves that the organization believes in reuniting children with their families. Interacting with the children is one of her favorite parts of her job.
Yariliz also works as a certified nursing assistant at Valley Manor Nursing and Rehab Nursing Center.
She attended Northampton Community College and graduated with an Associate's degree in Sports Management. Yariliz is currently attending Penn State pursuing her Bachelor's degree in Human Services and Rehabilitation.
In her spare time she likes to spend time with family, fiancé and volunteering with autistic children. Yariliz use to dance and was involved in many sports during her high school and college years.
Her favorite quote is "make it happen".
Her mother inspires her because by any means she always finds a way for anything.
Mariah Colon - Family Worker
For the past 4 years, I have worked as a lab technician at Spark Orthodontics. This is my first job in the social service field. Being a family worker at LVFT allows me to use my own personal experiences to help other families. Every person deserves to be treated as one. People deserve to know that someone out there cares for them and is looking out for their best interest. LVFT allows me to use my energy towards my passion for helping others. It allows me to share with families the love I have to care for them, and to help them grow firmly.
Since starting in this field, my life is more enriched and exciting, this field constantly encourages me to utilize and apply the knowledge and skills I have learned from my studies to come up with different ways to solve problems.
During my spare time, I love enjoying time with my family and friends. My son and I always find different things to do to keep ourselves busy.
"The mind is everything. What you thing you become."
My past and present experiences, lessons I have learned, and things I continue to face and go through in everyday life inspires me.
Victoria Landis - Family Worker
Working at LVFT is Victoria's first job in the social services field. She came to work at LVFT because it felt like it was a great opportunity for her to give back to the community and help people who are trying to move their life in the right direction.
What Victoria likes most about her work is having the opportunity to really get to know the clients and build a connection with each and every one of them. Her life has changed since starting in this field because going to work every day is exciting; not knowing what the day will bring and to see what new challenges they will face and overcome. Past employers in related fields include working in Asset Protection and at the Juvenile Justice Center for Northampton County.
Victoria attended Kutztown University and obtained a Bachelor's in Criminal Justice. While attending Kutztown University, she was a member of the Criminal Justice Association. Volunteers through her church and she goes to local soup kitchens to serve lunch.
Spare time includes spending time with her puppy, cooking, and binge watching TV shows.
Everything Happens For A Reason. If she could be any cartoon character that would be SpongeBob because he is funny and makes everybody laugh.
Victoria's biggest inspiration would be her mom because she has taught her to always work hard for the things you want in life, and when you do that, you can accomplish anything.