Staff
Steve Brong, MS – Founding Partner, President & CEO, Family Worker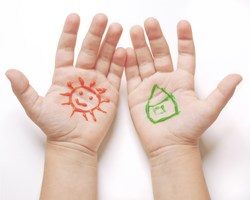 Steve began his venture in social services while attending graduate school at Shippensburg State College pursuing his Master's degree in counseling. He holds more than 35 years of experience working in the areas of drug and alcohol, mental health, as well as providing directorship of several children and youth organizations. Steve has dedicated his career to helping adults, children and families in managing stress and crisis by guiding them to stability.
As a founding partner of Lehigh Valley Families Together, Inc., Steve continues his commitment to children and families through his everyday work. "Just as the original concept of helping parents build a family that will be stable, emotionally and physically safe continues to guide my efforts, my direct involvement with clients as a family worker and team leader shapes my decisions as the chief administrator of LVFT. There is no question in my mind that continuing to provide direct services helps me stay in touch with the needs of our families and the counties we serve, and has made me a more effective administrator."
Allyn Benech, M.Ed. – Founding Partner, Vice President, Program Director
Starting out to be a business manager, Allyn decided towards the end of her undergraduate work that the counseling field was the direction she was headed. Graduating with a bachelor's degree in Business Management and subsequently a Master's of Education in Rehabilitation Counseling from Penn State, she now sees her life took her down the perfect path because she uses both of her degrees in her current position.
Allyn has held several positions in the area of social services from mental health and intellectual disabilities services to working with children in foster care and seniors in a nursing home setting. Her experiences brought her together with President Steve Brong to create Lehigh Valley Families Together.
Throughout her work, Allyn has learned that every person has a story that deserves to be heard and honored, and there is hope even in the direst of circumstances. Allyn holds true to a saying her father would tell her, "Everything happens for a reason." She works to help clients see beyond their immediate struggles to what may lie ahead.
In addition to holding the positions of Vice President and Program Director, Allyn is also certified in Family Group Decision Making and Family Development Credentialing. She enjoys spending time with her sons, dog and cat and when she's not reading a good book you may be able to talk her into taking a sky dive!
Laura Gross – Office Manager
Laura has been working 12 years as Lehigh Valley Families Together's office manager. Laura holds substantial management experience prior to joining LVFT and holds a degree in Computer Programming. Throughout her years with LVFT, Laura is inspired to see families who have so much going against them become success stories.
She enjoys spending time with her family and friends. Loves to laugh!
She believes you need to "enjoy the little things because one day you will look back and realize they were the big things!"
Laura is a longtime volunteer and loves to be outdoors especially on a beach somewhere.
Bethany Brown, M.Ed. – Director of Resource Family Care
Bethany began her career in social services in 1997 and has worked with for profit and non-profit organizations, small to mid-size companies, all of whom focused on client-centered, asset-based, solution-focused informed care. From private practice to a university setting, Bethany brings a well-rounded professional experience to her role. Seeking to reenter the field of foster care, Bethany came on board at LVFT in 2013. Bethany has this to say about her current role, "It might sound cliché, but I have learned that it takes a certain kind of person to be a foster parent, especially a good one (which ought to be the only kind). During the Home Study process, I get to become personally familiar with individuals who will be caring for children in need of placement. A lot is asked of them, and a lot they deliver. We are not in the field of making widgets but molding human beings, thus there are only generalizations regarding what to expect and how to respond. Each Resource Parent has to learn their foster child and accommodate that child's needs. And, the needs of each child may vary slightly to significantly. I am proud to be affiliated with people capable of doing this."
In addition to her work, Bethany is a constant student holding an Associate's degree in Education (Northampton Community College), a Bachelor's in Psychology (Cedar Crest College), a Master's degree in Special Education (Lehigh University) and is currently a Student of an Ed.D. in Counseling Psychology (Argosy University). She is also the President of the Greater Lehigh Valley Foster Care Coalition. And, when she can find a little spare time Bethany loves to read, write and is teaching herself how to play the piano!
Vanessa Chambers - Family Worker
Vanessa graduated from Muhlenberg College with a double bachelor's degree in Psychology and Africana Studies.
Vanessa has been working in the social services field for a year and 4 months have been at LVFT. Vanessa came to work at here because she liked the small company atmosphere. It is warm, welcoming, and caring. She feels LVFT takes pride in genuinely assisting their clients and works with a versatile community.
Vanessa enjoys working with a diverse group of clients who come from all different backgrounds and different life stories. Likes being able to connect with them on a one-on-one basis.
In her spare time, she is involved in athletics and fitness. She enjoys weight lifting, power lifting, and yoga. Her favorite sports teams are the Philadelphia Eagles and the Los Angeles Lakers.
When she was in the 7th grade, she competed in the National Spelling Bee. She didn't win but she was on TV! How cool is that!
The first quote she lives by ..."It's not about how you start, it's how you finish." The second is..."God gives his toughest battles to his strongest soldiers".
Vanessa would love to be Tommy Pickles from the Rugrats. He was a leader of the group, always creative with the group's plans, plus who wouldn't want to be a kid again?!
Nicole Ang - Resource Family Care Caseworker
Nicole has recently graduated from Indiana University of Pennsylvania. She received her Bachelor of Arts degree in Psychology. Being a caseworker at LVFT is her first job in the social services field. While at IUP, she was involved in the Seedling Project, which gives local residents fresh soil, gardening tools and seeds in order to start their own gardens. Nicole participated in the Women and Gender Studies Club, which aims to better inform people on gender issues.
LVFT stood out to Nicole because the agency's goal in foster care is reunification with families. She feels that family is key and LVFT makes every effort to try and keep families together. She feels that working here could make an impact on these children's lives. The part of her work she enjoys the most is working directly with the children and looks forward to making connections with them.
Nicole has started getting involved with the local Boys and Girls Clubs.
She is a recent newlywed, loves to travel and try new cuisine! Future plan is to go back to the Philippines for a visit, where she was born. Loves listening to hip-hop and R&B music.
Her mom is her inspiration because she showed her that no matter where you come from and how you grew up, you can make something of yourself as long as you have the determination to do so.
"People who are crazy enough to think they can change the world, are the ones who do." - Rob Siltanen
Ashley Liriano - Family Worker
Ashley graduated from Moravian College in 2016 with a Bachelor's in Sociology.
Her passion for wanting to help people and trying to find solutions for the problems they are experiencing is what drew her to being part of Lehigh Valley Families Together. After being with the organization for a short period she realizes that LVFT is a group of people with their heart in the right place.
She looks forward to supporting the families and creating a stable family environment where they can be happy!
In her spare time she enjoys reading, traveling and spending time with family and friends.
Karla Figueroa - Family Worker
This is Karla's first job in the social services field. Her degree is in psychology from Kutztown University. She has a passion to help individuals. Karla enjoys working with teenagers and families. Her personal experiences have inspired her to help people in distress. Her philosophy is that there is always a reason behind our journey and experiences in life. She enjoys a new challenge and believes it will help her grow and become a better person.
Karla has worked as a receptionist and as a child care teacher. She fell in love with spending time with children. Karla also believes that we learn from children more than what they learn from them. Enjoys volunteering as a youth leader at her church.
Karla also enjoys dancing, playing volleyball and spending time with her family. Her golden rule to live by is "treat others as you would like them to treat you".

Alexandra Woytowicz - Resource Family Care Caseworker Supervisor
Alex has worked in social services for three years, and has been with LVFT for two months. She graduated from Temple University with her bachelors in arts, majored in Psychology- focus on child development. She also worked at a day program with adults with autism and worked direct care in a home and community program with individuals with intellectual disabilities. Alex was also a nanny for three years. Alex chose LVFT because her passion is working with and for children. She finds it so important that every child is given the same opportunity to grow and succeed. In order for that to happen, there has to be a healthy and safe environment and she gets to help families make that possible. In her short time at LVFT, she has enjoyed seeing client's progress and watch them grow as a family. Alex understands sometimes people just need support and guidance, and loves being able to help them get where they need to be. Social services is where she knows she belongs. It's nice going home every day knowing that she is something to positively change someone's life and give them an opportunity to succeed.
When she is not working Alex likes going hiking and camping. She loves all Philadelphia sports. She just moved to the Lehigh Valley in March. She is a great addition to our staff.
Kimberleigh Burgess - Family Worker
Kimberleigh graduated from Moravian College in 2016 with a Bachelor's in Psychology and Sociology with a minor in Spanish.
She has completed internships at multiple non-profit organizations. Her time at Buxmont Academy was the most impactful. During that time she developed a desire to work further with families.
She has a strong passion in adolescent and family development. Kimberleigh loves conducting research in the areas of development and behavior. She also loves music and can usually be found with earbuds on and music playing almost 24/7.
Kimberleigh's own experience during adolescence drew her to wanting to help people in similar situations. She feels that working at Lehigh Valley Families Together will give her the opportunity to gain experience working with families.
Her ultimate goal and hope is not only to aid and help reunify families but also help cultivate love and an environment for the family to succeed.